Confession time. I too found it hard to wait. Still do. I can identify with this adorable little guy.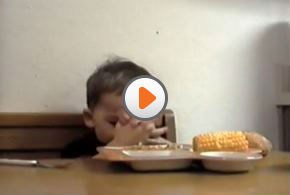 http://www.godtube.com/watch/?v=WWGKWPNX&utm_source=GodTube%20Must-See%20Video&utm_medium=email&utm_campaign=09/02/2013
God's teaching me to wait, not rush or hurry through the moment. I used to be worse! Transforming from Martha to Mary is. . .a transforming process.
My annual week away with the Lord tests my progress. Quite honestly it takes the first day of silence and solitude to release my clock, agenda and expectations to Him. When the swirl of my busy life settles into a release of the week to Him, I find such sweet peace. My eyes see beauty I usually rush past. My ears open to sounds of His creation. I hear the rhythm of the rolling ocean, birds chirping, helicoptors overhead. OK, so everything wasn't of His creation.
That's part of the problem for me. Noise, distractions, schedules, TV, electronics beeping, buzzing, whistling all clamor for my attention. Generally they win, even during so-called quiet times. I'm a lot like the little boy in the video.
How rude of me! To treat the God of the universe so. I feel insulted when a friend does that to me in the middle of a conversation. So does He.
That's why a week of allowing God to pace me is so vital. I hear His voice again. I'm reminded that's so much more important than Him hearing mine.
Joy, peace, love begin to fill me from within. I learn (once again!) to walk in the Spirit. No run, rush or hurry past Him. . .to the next thing.
He's my everything.
This was my view during my retreat. I'm reminded to lift up my eyes, above the towers that babble, to God.