True stories often make me laugh more so than fiction. When I remember one, my brain usually links to another. If I conjure up 3, I think, "Tr
ilogy! It'll blog!" Fusion of the funny bone!
Now I fully respect the ordinance of baptism. But I've been involved in ministry long enough to also realize things don't always go as planned. This is especially true for Baptist style baptisms. That's

immersion for you non-Baptists. They naturally lend to better stories!

Here's my 3-parter on the subject of baptism.
This one happened to Doug and me as we sang a duet one Sunday morning at First Free Will Baptist Church in Newport News, VA. After verse one we heard water splashing behind us. As the spattering continued down the choir steps from the overflowing baptistry, we went on to sing verse two. Splattering crescendoed and so did we.
The
faces of panicked deacons scurrying, teenagers guffaw
ing and Pastor Tag Kilgore snickering clued us in. We didn't need to turn around to know what was happening. We're experts on the obvious!
Someone filling the baptismal pool forgot to turn off the water. The waterfall
headed for us and our corded mics! Water and electronics. . .not a healthy combo.
I thought Doug would stop singing to save us from electrocution but he bellowed us into verse three and a coda. Meanwhile, I wondered how painful this death would be, how long it takes to fry and if it would ruin my hair for my own funeral!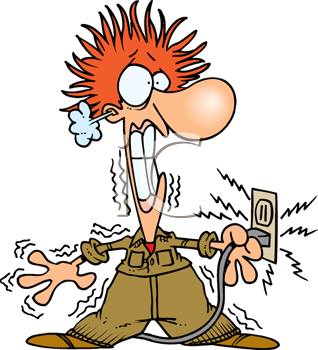 We finally ended the special music. Special indeed! Tag came to the pulpit as someone turned off the water. He laughed, "Doug and Kathy, I'm sure that was a good song but no one here heard it. Why don't you sing it again tonight after we mop up the floor."
Back in the early 70's women wore curly hairpieces from the crown of the head, cascading down to the neck. It gave an elegant updo without much ado. Rev. David Paramore baptized a lady and didn't realize she wore such a hairpiece. When she came up, her water-logged wig did not. She exited up the steps, not realizing she'd left a floating ball of fur behind.
David looked at it as if it was a drowned rat, then realized what it was. He picked it up, wrung it out slightly then handed it up to her. He did so in such a gentlemanly way, that he actually restored a bit of the elegance she'd left bobbing behind.
Years ago in Beacon B
aptist Church in Raleigh, NC, a young associate pastor, Tim Rabon, was nervously performing his first baptism. The man being baptized was Bill Cheek, a strapping military man with a quick wit. Probably most of the congregation was empathetic on Tim's behalf. They sensed his mild stress at officiating his first baptism. I, on the other hand, simply saw a wonderful opportunity to join ranks with Bill, a fellow jokester.
"Say, Bill, wanna get one over on Tim tonight?"
"Sure, Kathy, " he laughed without even knowing quite why. "What you got in mind?"
"As you take the four steps into the baptismal water, the screen blocks you from the congregation's view. Only Tim can see you coming down until that last step."
"Ri-iiight?" he inquired as if for more info.
I handed him
the snorkel, mask and swim fins but before I even fully explained, he got i
t.
The quiet service began that evening and the reverent Rev. Tim spoke into his lapel mic from the water, "This is a great honor for me tonight to baptize my very first candidate, Bill Cheek. " He turned his head to the right and immediately lost a bit of his reverence. He spotted

Bill, flippers flopping onto the first step,

snorkel

and mask

in place supported by a big grin.
Tim eyes darted back to his clueless audience. He stammered, "Um. . .uh, I wish you could see what I do, folks." But he really didn't.
On step number one Bill removed the snorkel. Into step two, he tossed the fins. Step three gave him just enough time to lay aside the mask. He stepped into the audience's view very pleased with himself, looking quite normal.
Tim sputtered and laughed. Alone. (Well, I was laughing too.) He didn't even try to explain to the congregation. He just got through it and carried an indelible, lifetime memory. Thanks to me.
As we age and look back on foolish decisions we made in our youth, sometimes we feel shame, even regret. Not me. Not this time.
Now you Methodists, Presbyterians and Lutherans, just try to beat that with your sprinkling stories! Another reason I love being a Baptist.
After I wrote this blog my brother, Ricky, sent me this true story. It happened in the very same church. So remaining in the Baptist tradition little Kathleen's first communion wraps up this unordinary ordinance blog.
Many years ago when Kathleen was five years old we were sitting in the next to the last row in Cox Chapel. Kathleen had only asked Jesus into her heart a few weeks earlier
and this night was her first communion. When the deacon passed us the plate and we took a piece of bread, she sat there grinning from ear to ear, wiggling, waiting impatiently and just full of herself.
After a few minutes of this as we waited for everyone to be served, I leaned over and quietly whispered in her ear, "Right now you should be very still and you should be thinking about what Jesus did for you on the cross."
I went back to my own quiet prayer time with the Lord but in a few moments I heard sniffling. I turned to her to see tears rolling out of both eyes and immediately felt bad for correcting her. I asked, "What's wrong?"
To which she replied what I'll always remember, "I'm just thinking about what Jesus did for me on the cross that day."
So are we, Kathleen. So are we now.